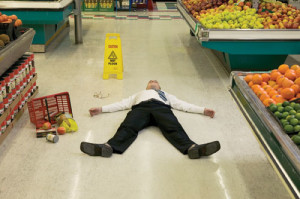 A personal injury accident often leaves the victim with serious injuries. Those injuries may be physical and/or emotional. A victim may also suffer financial hardship following a personal injury accident. If you have been injured in a Michigan personal injury accident that was caused by another party, the at-fault party may be responsible for compensating you for all your injuries. What happens though if you are partly responsible for your injuries? In Michigan, the other party may still be required to compensate you even if you were partial responsible for the accident that caused your injuries.
In a personal injury accident a victim is required to prove that another party was negligent (in most cases) in order to be entitled to compensation for damages. All too often, however, it is not clear exactly how an accident occurred and, therefore, exactly who is at fault. Questions can remain even after an investigation determines exactly how the accident occurred. Those questions mean that it is frequently impossible to place 100 percent of the blame on a single party. For this reason, the law uses either comparative negligence or contributory when deciding if a victim is entitled to recover anything for his or her injuries.
In a contributory negligence system a victim cannot recover anything if the victim contributed at all to the accident. In other words, if you are involved in a car accident and it is determined that the other driver was 99 percent to blame and you were one percent at fault you are entitled to nothing from the 99 percent at fault driver. Fortunately, only five jurisdictions in the United States use contributory negligence. Michigan is not one of those.
All other states use some form of comparative negligence. Comparative negligence apportions the fault among the parties involved and then compensates the victim accordingly. In Michigan's modified comparative negligence rule you are entitled to compensation as long as you are not more than 50 percent at fault. The compensation to which you are entitled is then adjusted pursuant to the level of fault you share in the accident.
By way of illustration, assume that you are in a car accident and it is later determined that the other driver's drunk driving was 90 percent responsible for the collision; however, your speeding was 10 percent responsible. Assume further that you had medical bills and lost wages totaling $30,000. You would potentially be entitled to $27,000, representing 90 percent of your total damages.
Navigating the legal system can be confusing for the victim of a personal injury accident. Contact an experienced Michigan personal injury attorney today for a consultation to find out how we can help you.

John Walt began practicing law in 1980 having graduated from the University of Michigan in 1977 and the University of Detroit Law in 1980. His practice areas have taken him to courts all over the state to Detroit, Flint, Saginaw, Bay City and points in between.

Latest posts by John Walt (see all)