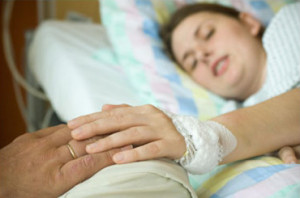 As a parent there is nothing worse than seeing your child injured. A child dog bite, therefore, can be a traumatic experience for both the child and the parent. If your child has recently suffered an dog bite attack you may be wondering " should I hire an attorney for my child's dog bite ?" The simple answer to that is that it is always a good idea consult with an attorney if you have suffered injuries in any type of personal injury accident. When the accident is a dog bite and the victim is a child it becomes even more important to talk to an attorney.
Any type of personal injury accident can cause serious physical injuries to the victim. A dog bite, however, also tends to cause serious emotional trauma to any victim. When the victim is a child, the emotional scars caused by the attack can last a lifetime. Even a relatively minor dog bite that causes only superficial physical injuries to a child can cause the child to fear dogs, and often all animals, for years to come. Often, a child dog bite victim requires years of therapy to try and erase the trauma caused by the attack. Therapy, of course, is expensive. As the parent, you should not be forced to shoulder the financial costs incurred in treating your child for a dog bite if the dog was not your dog. Fortunately, the Michigan legislators agree with this which is why the State of Michigan has a strict liability law that applies to dog bite injuries.
Mich. Comp. Laws Ann., sec. 287.351 states:
"If a dog bites a person, without provocation while the person is on public property, or lawfully on private property, including the property of the owner of the dog, the owner of the dog shall be liable for any damages suffered by the person bitten, regardless of the former viciousness of the dog or the owner's knowledge of such viciousness."
In essence, the law means that if your child was lawfully on the property where the dog bite occurred your child (through you as the child's guardian) is entitled to compensation for all of the injuries suffered in the dog bite attack, including emotional or mental injuries.
Although the law favors victims of dog bite cases in Michigan it is still a good idea to have an experienced Michigan dog bite attorney on your side to ensure that your child is fully and fairly compensated for both the physical injuries and the emotional trauma suffered in the attack.

Howard Slusky is a licensed attorney with the State of Michigan with professional association memberships with the Workers' Compensation and negligence section of the State Bar of Michigan, Michigan association for Justice, and the National Organization of Social Security Claimants' Representatives.

Latest posts by Howard Slusky (see all)