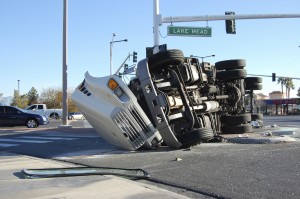 Being involved in any type of motor vehicle collision can result in significant injuries to you and your vehicle; however, if the other vehicle is a large truck the odds of being seriously injured increase exponentially. Moreover, tractor-trailers are disproportionately involved in collisions each year, further increasing the risk of serious injury if you are involved in a crash. While many semi-truck drivers operate their vehicle responsibly and obey all of the rules of the road, some do not. As a result, there are some common causes of trucking accidents that you should be aware of should you find yourself involved in one.
Fatigued driving – although the federal government limits the number of hours a truck driver can drive between rest periods, many drivers ignore the "Hours of Service" rules and push on despite being fatigued or drowsy.
Speed – speed is a factor in approximately one in three motor vehicle accidents every year. Truck drivers may not drive over the posted speed limit but they frequently drive too fast for traffic or road conditions, creating a dangerous situation for other motorists on the roadway.
Impaired driving – truckers sometimes use both illegal and legal drugs to try and combat fatigue while driving. Even prescription or over-the-counter medications can impair a trucker's ability to safely operate an 18 wheeler.
Distracted driving – federal law prohibits texting while driving a commercial vehicle; however, not all drivers obey the law. In addition, other electronic devices such as cell phones, navigation devices, and even televisions can distract a truck driver while driving.
Aggressive driving – a fully loaded tractor-trailer can weigh 80,000 pounds, making it a deadly weapon if the driver operates the vehicle in an aggressive manner. Weaving in and out of traffic, driving too fast for conditions, or failing to yield can cause a fatal accident if the driver is operating an 80,000 pound vehicle.
Vehicle or equipment malfunction or defect – truck drivers are required by law to inspect their vehicle on a regular basis for safety issues; however, these inspections are often rushed or ignored altogether in an effort to get on the road quickly.
If you have been involved in a Michigan trucking accident you could be entitled to compensation for your injuries and suffering. Contact an experienced Michigan trucking accident attorney right away to discuss your legal options.

John Walt began practicing law in 1980 having graduated from the University of Michigan in 1977 and the University of Detroit Law in 1980. His practice areas have taken him to courts all over the state to Detroit, Flint, Saginaw, Bay City and points in between.

Latest posts by John Walt (see all)